If you enjoy having bread, cake for breakfast, you might wonder or be interested in how to make waffles? Theres something about waffles that just makes everyone happy. Perhaps its the combination of crispy outside and fluffy inside, or the way they can be customized with all sorts of delicious toppings. Whatever the reason, waffles are a breakfast favorite for people of all ages, or they can become nutritious snack for your kids in mid-days. And making them at home is really quite simple! In this post, well walk you through the steps of how to make waffles perfectly every time. So get ready to start your engine and flip some flapjacks…your beloved people are going to love these!
How to make waffles originally?
How To Make Waffles - Original taste
Dry ingredients:
-1 cup of all-purpose flour
-2 teaspoons baking powder
-Salt (a pinch)
-¼ teaspoon cinnamon
Wet ingredients:
-1 egg, lightly beaten
-1 cup milk or buttermilk
-4 tablespoons melted and cooled butter
-1 tablespoon vanilla extract (optional)
Instructions:
1. In a large bowl, whisk together the flour, baking powder, salt, and cinnamon (if using).
2. In another bowl, mix the egg, milk or buttermilk , butter , and vanilla extract(if using) . Stir until it is blended well.
3. Pour the wet ingredients into the dry ingredients slowly while mixing . Stop when everything is perfectly combined.
4. Follow your waffle irons instruction manual to preheat it before use.
5. Before you begin, lightly grease your waffle iron with cooking spray or butter to prevent sticking.
6. Pour in enough batter to cover a quarter of the surface of the waffle iron (this will depend on how much batter you typically use for each waffle), then close the iron and cook according to the manufacturers instructions until the waffle is golden brown and crispy - this should take 3-5 minutes.
7. Repeat with remaining batter, greasing the waffle iron again between each batch as needed.
8. Serve your delicious homemade waffles warm, topped with butter and maple syrup or your favorite toppings!
Invincible matcha waffles recipe
How To Make Waffles - Matcha taste
Dry ingredients:
1 1/4 cup of all purpose flour
1/4 teaspoon salt
5 tablespoon sugar
2 tablespoon baking powder
1 tablespoon matcha
Wet ingredients:
1 cup of milk
1/4 cup of vegetable oil
1/2 tablespoon vanilla
1 medium egg
Instructions:
First, sift and mix the dry ingredients in a bowl. In a separate bowl, mix the wet ingredients before adding them to the dry mixture.
Then, ladle the waffle batter onto a waffle maker (we didnt fill it up all the way to have pretty green matcha showing). Cook until golden brown; we usually cook for 2.5 minutes before flipping and cooking for another 2.5 minutes on that side.
In total, this should take about 5 minutes. Serve hot with maple syrup and salted cultured butter!
So weve known 2 great recipes, lets go to the final recipe How To Make Waffles - Chocolate taste.
Amazing Belgian chocolate waffles recipe
How To Make Waffles - Chocolate taste
Dry ingredients:
2 1/4 cups all-purpose flour
2 teaspoons baking powder
1 teaspoon baking soda
1//2 teaspoon cinnamon
1/2 cup cocoa powder
1/3 cup granulated sugar
1//2 teaspoon salt
Wet ingredients:
1 teaspoon vanilla extract
2 large eggs, separated
1/2 cup vegetable oil
1 1/2 cups milk
Instructions
Before you begin, preheat your waffle iron and spray it with nonstick cooking spray.
Next, in a large bowl, whisk together the flour, cocoa powder, baking powder, baking soda, sugar salt and cinnamon.
In a medium sized bowl beat the egg whites until stiff peaks form using a hand mixer then set that mixture aside.
In a medium sized bowl, mix together the egg yolks, vegetable oil, milk, coffee if using and vanilla extract.
Then add this mixture to the dry ingredients you mixed earlier and stir well.
Next come the egg whites- fold these in too. Now that your batter is done, pour it onto your heated waffle iron surface and cook according to manufacturers directions.
Lastly (and most importantly), serve immediately with butter syrup, powdered sugar or any other toppings of your choice!
Videos of how to make waffles 
1-Video of Preppy Kitchen
2-Video of Artsuki (matcha)
3-Video of STA Kitchen (Belgian chocolate)
Tips to have better waffles for meals or snacks
Experiment with different types and combinations of ingredients, such as flour, baking powder or soda, spices, sweeteners, eggs, butter or oil, and milk or buttermilk. This will help you find the perfect combination of flavors and textures to make your waffles extra delicious!
Keep your waffles warm in the oven while you finish cooking the rest of your batter to ensure they stay crispy and delicious until you are ready to serve them.
Although butter tastes better, using oil will result in a better texture for your pancakes according to Fine Cooking. They advise that liquid fats work best for this purpose because they help thin out the batter.
Additionally, they warn against using anything with a strong flavor such as bacon grease or peanut oil, as this can overpower the taste of your waffles.
Finally, be sure to preheat your iron before adding the batter and dont forget to generously coat it with cooking spray or butter to prevent sticking.
How to serve waffles correctly?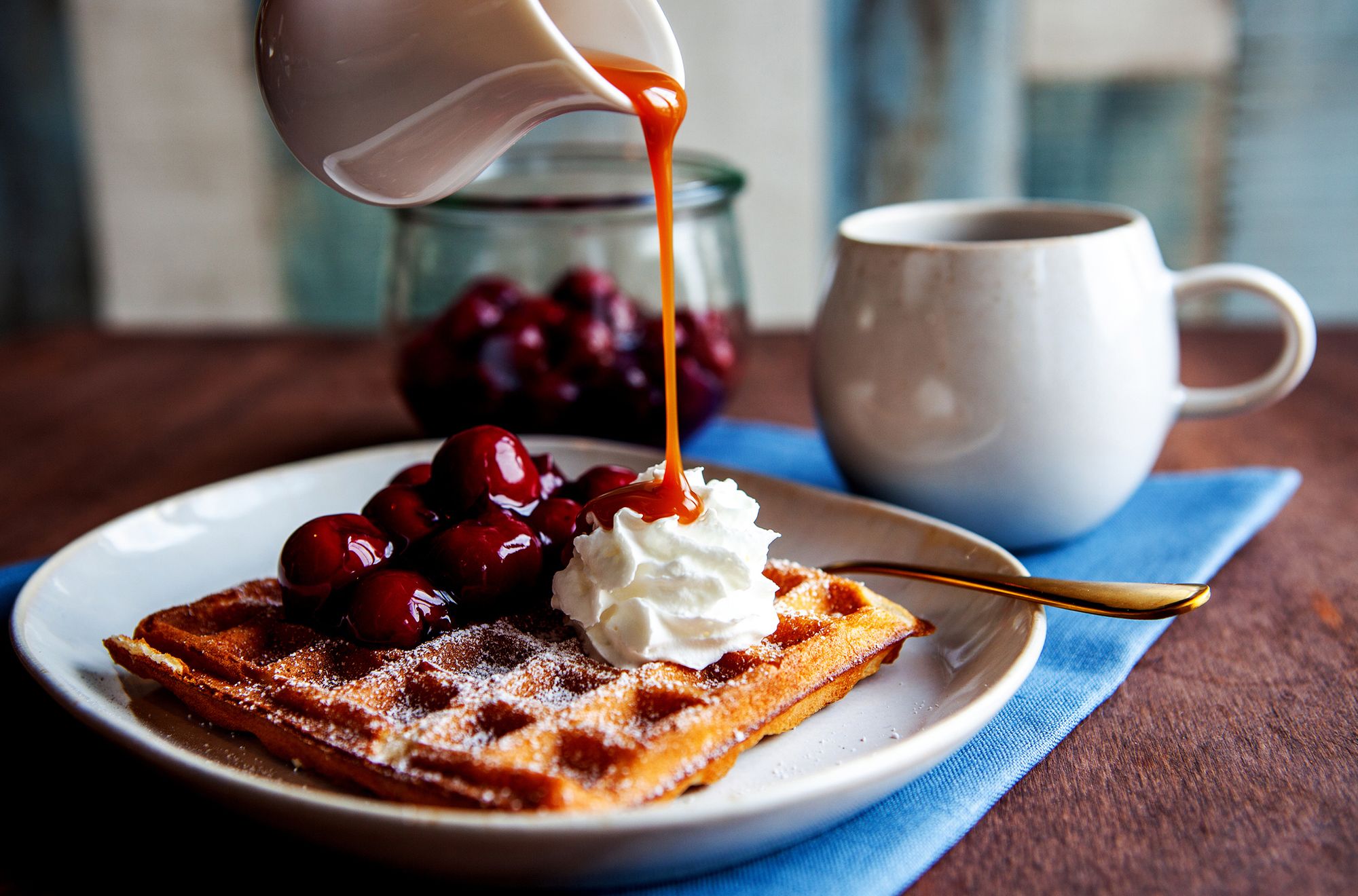 There are many delicious ways to serve waffles, but one of the most popular and classic options is with a generous dollop of whipped cream and some fresh berries. You can also top your waffles with maple syrup, honey, jam or any other toppings you love.
And dont forget to drizzle on extra butter for an extra rich and indulgent treat! Whether youre serving them for breakfast, brunch, or dessert, waffles are truly a versatile and delicious dish that everyone will love.
Here are the list for you to check out best waffles toppings:
Sweet list:
Whipped Cream
Maple Syrup
Honey
Cinnamon Sugar
Ice Cream
Bananas
Avocado
Peaches
Strawberries
Chocolate
Savory list:
Bacon
Egg
Smashed potato
How to store and reheat waffles?
There are a few options for how to store waffles once theyre baked.
If you want to save them for later, one of the easiest ways is to freeze them and re-heat as needed. To do this, simply place your waffles on a baking sheet and pop in the freezer until frozen, then transfer to an airtight freezer bag or container.
Alternatively, you can store your baked waffles in an airtight container in the fridge for several days. You can also wrap them individually with plastic wrap or aluminum foil for a grab-and-go option.
If you dont have time to make waffles from a recipe, then store-bought ones work just as well. Get creative with your toppings: try fried or caramelized bananas with ice cream, mixed berries and honey, or even use waffles in place of bread for a toasted sandwich.
If you want to reheat your waffles and have them still taste great, follow these steps.
Instead of putting the hot waffles straight into freezer bags, cool them on wire racks first.
Then, line a tray with baking paper and place the cooled waffles on top in a single layer.
Put another layer of baking paper on top of the waffles before placing them in the freezer so they dont stick together or lose their shape.
Once frozen (around 6 hours), carefully store them in freezer-safe bags before returning them to the freezer where they will last up to 3 months.
FAQs of how to make waffles
1-Do we need to let waffle batter rest?
Wait the full 30 minutes for the batter to rest; if it ends up taking almost 40 minutes, thats okay. If you dont let the batter rest, youll get a waffle that is smaller and not as tasty.
2-How can I make my waffle batter thicker?
Use cornstarch. Waffle batter becomes thicker for desired crisp edges.
3-If I dont have a waffle maker, can I make waffles?
You cant go wrong with some good old fashioned waffles. But why settle for the ordinary when you could make them on a grill pan and step up your game? These bad boys will still cook up fluffy and have plenty of syrup-holding ridges.
4-Are pancakes considered flat waffles?
Although they have many similarities, pancakes and waffles differ in several ways. Most noticeably, pancakes are flatter and smoother while waffles are thicker with a ridged square patterning.
5-What is difference between a waffle maker and a waffle iron?
They shared similar appearance, however, they are different. We can distinguish by these brief features:
A waffle maker is a kitchen appliance that uses electricity to heat up and cook the batter poured into its griddle.
A waffle iron is a more accurate description for this kitchen gadget, since it can be used on the stove.
6-What brands of waffle maker should I consider?
Keep in mind that different waffle maker brands produce waffles with various flavors and textures. A few brand names to take into account are Dash, Presto, and Cuisinart. Once youve decided on a particular waffle maker brand, additional features like how easy it is to clean or how rapidly it cooks should be considered.
7-What equipment do you need to make waffles?
If you wish to mix by hand, you will need a whisk and a basin specifically designed for mixing. In addition to that, you will require either an electric mixer or a waffle maker that is capable of doing the required tasks.
Conclusion
We hope that you found this post - How To Make Waffles helpful, whether it be because you are new to making waffles or because you are just searching for some fresh recipes to try. Make it a point to look over the rest of our baking and culinary recipes; theres something for everyone. As always, we are grateful that you choose us - The Blue Stove as your primary resource for information about cooking and related topics.