Banana - Crepes - what they could make when combine? How to make banana crepes with pancake mix? Sounds really tempted, doesnt it?
Who doesnt love crepes? Thin, tender, delicate crepes that can be filled with any sweet or savory filling you like. While they may seem intimidating to make at home, theyre actually quite simple with the right recipe. In this blog post, well show you how to make banana crepes with pancake mix - a delicious and easy-to-follow recipe the whole family will love. Lets get started with why banana crepes!
The benefits of banana in daily meals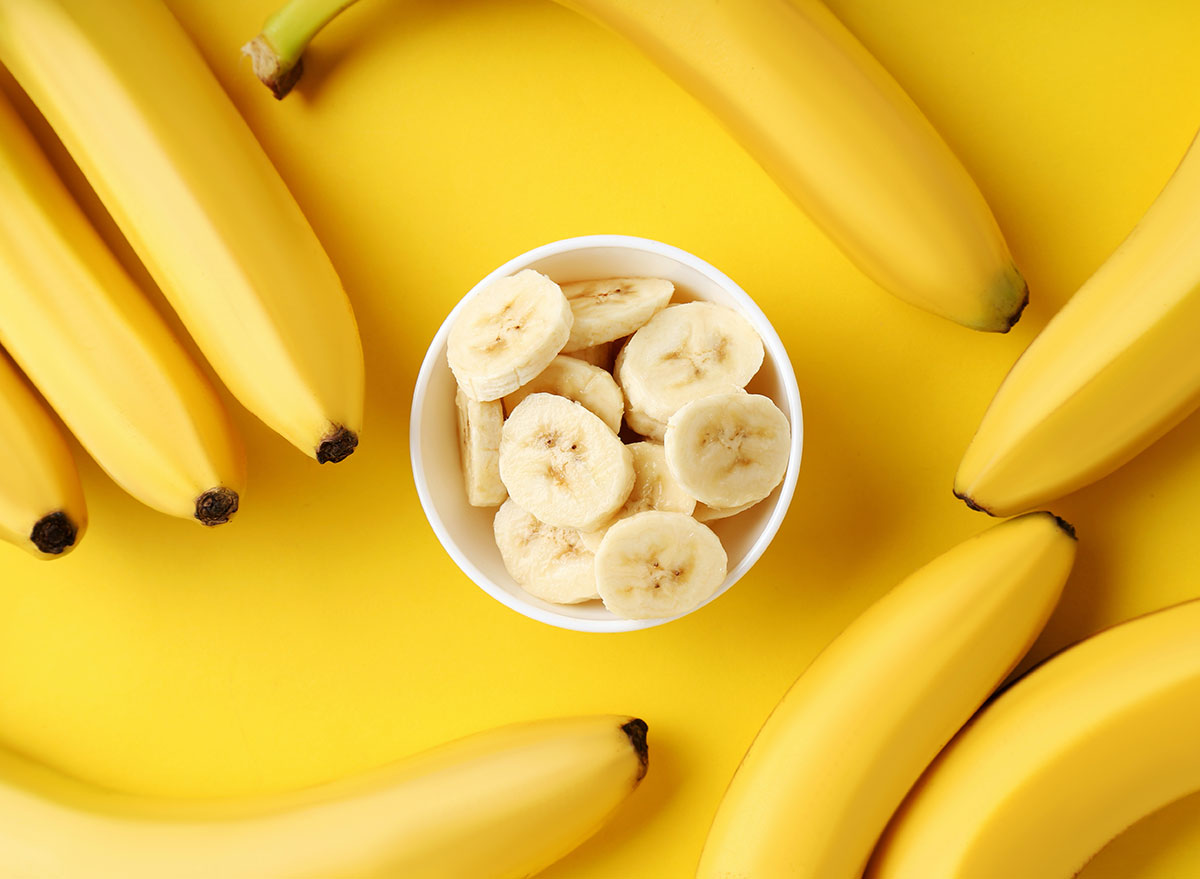 The benefits of including bananas in ones regular diet are well-documented. They include a wide variety of antioxidants that can help protect against disease and are a rich source of several important nutrients, including potassium, vitamin C, and fiber. Additionally, they are a good source of antioxidants.
So you know how good the bananas are, so how about combining it into your favorite dessert dish? Why not right? Lets go to learn about how to make banana crepes with pancake mix!
How to make banana crepes with pancake mix originally right at home?
Ingredients:
- 1 cup all-purpose flour
- 2 teaspoons baking powder
- 1/4 teaspoon salt
- 2 eggs, lightly beaten
- 1 cup milk
- 1 ripe banana, mashed
- 2 tablespoons sugar or honey, optional
Instructions:
1. In a large bowl, whisk together the flour, baking powder, and salt until well combined.
2. In a separate bowl, combine the eggs, milk, banana, and sugar (if using). Whisk until smooth.
3. Add the egg mixture to the flour mixture and stir until well combined. Let the batter rest for 5-10 minutes.
4. Heat a lightly greased pan or griddle over medium heat. Pour approximately ¼ cup of batter into the center of the pan and swirl it gently to spread out in a thin, even layer.
5. Cook for 1-2 minutes, or until the crepe starts to bubble on top. Gently flip and cook for another 30 seconds. Repeat with the remaining batter.
6. Serve your banana crepes warm, with your choice of toppings or fillings - such as sliced bananas, chocolate sauce, whipped cream, or nut butter. Enjoy!
How to make banana crepes with pancake mix in the French way
Ingredients
+Pancake mix:
1 cup all-purpose flour
1/4 cup confectioners sugar
1 cup whole milk
2 eggs
3 tablespoons butter, melted
1 teaspoon vanilla extract
1/4 salt teaspoon
+Toppings and Fillings:
1/4 cup of butter
1/4 cup packed brown sugar
1 teaspoon ground cinnamon
1/4 teaspoon ground nutmeg
1/2 and a quarter cream
5 to 6 firm bananas that have been halved lengthwise.
Whipped cream and additional cinnamon (optional)
Instructions
In a bowl, mix together flour and confectioners sugar. Next, add milk, eggs, butter , vanilla and salt; beat until mixture is consistent.
Lightly grease a 6-in. skillet and heat on medium heat. Add 3 tablespoons of batter to the pan, spreading it out so that it almost covers the entire bottom surface of the pan. Cook until lightly browned, then flip and cook for an additional minute or two until both sides are nicely browned. Remove crepes from pan and place on a wire rack to cool slightly; repeat with remaining batter (should make 10-12 crepes in total), greasing skillet as needed between batches.)
In order to fill the skillet, melt butter and mix in brown sugar, cinnamon, and nutmeg. Add cream and cook until it becomes slightly thickened. Then, add half of the bananas at a time so they can heat for 2-3 minutes; spooning sauce over them as needed. Finally, remove from the heat once everything is finished cooking through.
For each banana half, roll a crepe around it and then place the crepe on a serving platter. Once all crepes are rolled, spoon sauce over them. Top with whipped cream and dash of cinnamon (optional).
Tips to have good banana crepes with pancake mix
- Make sure that your banana is ripe - the riper the banana, the sweeter and more flavorful it will be. You can also add in a little bit of sugar or honey to enhance the sweetness.
- Use high quality ingredients, such as all-purpose flour and fresh eggs, for best results.
- When cooking the crepes, be sure to use a pan or griddle that is properly greased and heated to prevent them from sticking.
- For extra flavor and texture, try pairing your banana crepes with some delicious toppings or fillings, such as sliced bananas, chocolate sauce, whipped cream, nut butter, or any other goodies you like.
These cool tips can go with even the original crepes and help you have a nutritious meal in daytime.
What to avoid in how to make banana crepes with pancake mix?
So you have known what to do of making crepes with pancake mix now, how about what to NOT do?
- Avoid rushing through the steps or skipping certain ingredients, as this can affect the texture and taste of your final crepes.
- Do not overmix the batter, as this can result in tough or chewy crepes.
- When cooking the crepes, be careful not to overcook them or else they may become dry or rubbery. Start with a medium heat and adjust as needed.
- Avoid skipping the resting period - this allows the flour to absorb all of the liquid ingredients and creates a softer, more tender crepe batter.
Videos of how to make banana crepes with pancake mix
1-Kikifoodies Channel
2-Flohs kitchen Channel
What pancake mix can I buy on the market?
There are many different brands of pancake mix available on the market, including Bisquick, Aunt Jemima, Bobs Red Mill, Kodiak Cakes, and Pillsbury. When choosing a pancake mix, consider factors such as taste, texture, and ingredients to find the one that best suits your needs and preferences. Some popular options to look out for include mixes that are higher in protein, gluten-free, or made with wholesome ingredients.
No matter which pancake mix you choose, you can be sure to enjoy delicious and satisfying banana crepes that are sure to please any crowd! Here is a crepe recipe of Bisquick pancake mix you can try out.
This is the final part for our article of how to make banana crepes with pancake mix, we hope you find this blog useful and it can help you have great nutritious meals for yourself also your family. Thank you for you time!
FAQs
1. What kind of banana should I choose to make crepes?
There is no definitive answer to this question, as different types of banana will result in slightly different flavor profiles. However, for the best results, you may want to choose a ripe or nearly ripe banana that is creamy and sweet.
2. How do I know if my banana crepes are cooked through?
The easiest way to check whether your banana crepes are cooked through is to use a toothpick or skewer to pierce the center of one. If it comes out clean, then the crepe should be fully cooked on the inside. Otherwise, you may need to cook for a little bit longer.
3. How can I add extra flavor and texture to my banana crepes?
There are many ways to add extra flavor and texture to your banana crepes. Some popular ingredients include fresh fruits, chocolate, nuts, nut butters, syrups or sauces, whipped cream, and more. Feel free to experiment with different combinations until you find your favorites!
4. How can I make my banana crepes extra healthy?
There are many ways to make your banana crepes healthier, such as by using minimally processed ingredients, opting for fruit-sweetened toppings or fillings, and limiting added sugars and fats. Additionally, you could try pairing your banana crepes with a side of fresh fruit or veggies, or even some plain yogurt for extra protein and nutrients. No matter how you choose to make them healthier, your banana crepes are sure to become a delicious and nutritious part of any balanced diet.
Conclusion
Using pancake mix to make banana crepes is not only easy but also quite tasty. You can read through this recipe How to make banana crepes with pancake mix and make some mental or written notes on how to cook this mouthwatering dish. If you found this article to be interesting, please visit our website for additional information about how to prepare various dishes. I am appreciative of your reading at The Blue Stove!